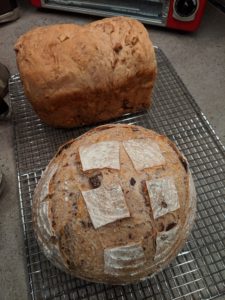 photo: Chocolate Cherry (top), Olive Sourdough (bottom)
Today we made sourdough (prep'd yesterday, baking today) in the oven and two dessert breads in the bread machine. The first desert bread was Apple Cinnamon with the apples Barbara picked with Becky a couple days ago. I don't think I used enough apples. Next time we'll try two cups. Barbara thinks the sweetness is about right and I think it's not sweet enough so it's just right! 🙂
We tried the Cinnamon-Apple-Pecan Bread recipe from The Bread Lover's Bread Machine Cookbook by Beth Hensperger.
Cinnamon-Apple-Pecan Bread
For 1 1/2 lb loaf
1 1/8 cups buttermilk
2 tbsp walnut oil
3 cups bread flour
3 tbsp light brown sugar
1  tbsp gluten
1 1/4 tsp salt
1 tbsp ground cinnamon
2 tsp SAF yeast or 2 1/2 tsp bread machine yeast
Added ingredients (add at beep)
1/2 cup chopped dried apples (or pre-chopped apple nuggets)
1/3 cup chopped pecans
We diced the enough apples for 1 cup but next time we'll try 2 cups of cubed apples and a little more cinnamon. Maybe some extra brown sugar if I can sneak it in. It came out pretty good but the bread machine really needs help combining the extra ingredients (we add those at the buzzer, 5 minutes before kneading is complete).
Chocolate Cherry Bread
(from the Zojirushi Home Bakery Virtuoso Plus Recipe Book Chocolate Bread recipe)
320 g milk
1 large egg (beaten)
2 1/2 tbsp unsalted butter
545 g bread flour
3 tbsp sugar
2 tsp salt
2 tbsp unsweetened cocoa powder
2 tsp Rapid Rise yeast
Extra Ingredients:
90g (9 tbsp) chocolate chips
1/2 cup chopped dried cherries
Course I (White)
We added 3/4 cup Ghirardelli Chocolate Chips and 1/2 cup of chopped dried cherries. It's cooking now. I really had to help the bread machine fold in the extra ingredients (added at the buzzer). Otherwise it just beats them to death at the bottom of the pan. This is especially key for our olive bread but vital to the chocolate too to get them evenly mixed into the dough. It's cooking now. I think it'll be good!
Update: Turned out great! Maybe less cherries next time.
Bab's House Olive Sourdough
380g water
320g starter
600g white bread flour
200g wheat flour
2 tsp salt
2 tbsp sugar
1 1/3 cups sliced olives (thickly sliced)
The olive bread we made last night with the usual house recipe but with 1 1/3 cups of olives (we cut down after the disaster last time but that was actually due to a beatdown by the bread machine), we lowered the water to 380 grams which after mixing seemed about right. We left it in the fridge overnight and took it out this morning. By mid-day it was still cold so I punched it down and shaped it into two 8″ boules. We baked the first one at 425 F for 25 minutes with covered (this was an accident but a mistake we'll repeat from now on when we have added ingredients, especially wet ones like olives which really slow things down and increase the chance of undercooking), and the usual 10 minutes uncovered to get the crust golden brown. We haven't cut into it yet but you can see it at the top of this post. The second one is ready to go in the oven now. I think this one is going to be good.