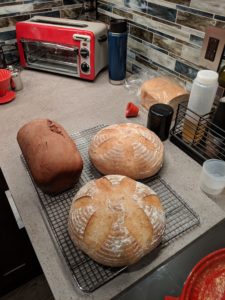 Today we made some more house bread (2 rounds) and a chocolate chip machine loaf. Here's our Chocolate Chocolate Chip Bread recipe. It's one of our favorites. I want to try a quick bread with banana and chocolate soon, or maybe just add some banana to this recipe.
Chocolate Chocolate Chip Bread
(from the Zojirushi Home Bakery Virtuoso Plus Recipe Book Chocolate Bread recipe)
320 g milk
1 large egg (beaten)
2 1/2 tbsp unsalted butter
545 g bread flour
3 tbsp sugar
2 tsp salt
2 tbsp unsweetened cocoa powder
2 tsp Rapid Rise yeast
Extra Ingredients:
90g (9 tbsp) chocolate chips (I used 115 g or 2/3 cup this time)
I did he Homemade Cycle with a 30 minute Rest, a 30 minute Knead, adding the chips slowly between 15 and 10 minutes remaining, let it rise 3 times (0:35, 0:20, 0:40) and baked it for 1:10.
Update: Hmmm, it just finished baking and it cracked on top. It also looks a little overdone on the sides. It didn't seem to rise enough before starting to bake. I think with the extra kneading, chocolate and sugar it needs longer rise times, even with the Rapid Rise yeast. I think next time we'll use ASF (Active Dry or the slower rising instant) yeast and do a 1 hr Rise 1 and a 2 hr Rise 2. We'll see when we slice it if the 1:10 baking time was right. … ugh, we just sliced it and it pretty much sucks. First of all it tastes salty so I need to be more careful measuring. Next it has no chocolate chips. That's right, by adding them early I beat them into non-existence. I continue to struggle with the additional ingredients. Especially with the chocolate chips, it's less important that they be evenly mixed in than left intact. It was also overdone. So this was an epic fail in just about every way. Next time we'll go back to the original recipe, using the Course 1 White setting, adding the chips at the beep, etc.